Wayrift RPG Maker Game
~*~

Completely Old Skool

Completely Satirical

Completely Wayrift

~*~

Format: RPG Maker 2003
Compatible with Windows 98 - Windows 10 (May need to run as administrator to save the game.)

Status: Beta Testing

Rating: Teen
---
Downloads
Download and install the font BEFORE you install the game — you will only need to do this if you don't already have these fonts installed on your computer. Otherwise, the game fonts look all funny and squished.
Quick Instructions:
Download Zip file.
Unzip into a folder on your computer.
Copy the fonts from the folder into your font folder located at C:\windows\fonts. OR double-click each font file and click Install in the window that pops up.
Please See Instructions further down this page for help with installation.
---
About the Wayrift RPG
The Wayrift RPG is a fan-created game that uses the foundation of RPG Maker 2003. While there are newer versions of RPG Maker out there, and we are aware of that, much of the work that has already been put into the game's original sprites and world maps was done back in 2003 using this system. Therefore, we decided to leave it as-is rather than recreate everything from scratch.
Episode 1 of the RPG focuses on the adventures of Mysidian Mages, AC and Newt (often seen as side characters in Darkstar). The game begins in the BS Dimension, but soon takes players across the dimensional lines as the young heroes work to figure out the mystery surrounding the trouble with the Crystal of Water in Mysidia.

There's plenty of laughs and snarks to be found as Newt and AC meet up with new friends, travel to familiar places and mingle with heroes and weirdos, alike. While we have a few loose plans in possibly taking this game into another episode, we really hope that those who do spend some time playing this will help with feedback on mistakes, bugs or anything else that just didn't work right.
Notes, FAQs, Whatevers:
The cast list during the opening creditz is not complete… those are just the characters that we have sprites for.
Episode 1 is only an hour or so long in play time. It was an experiment and learning process for us. Still, we hope you can enjoy it!
Yes, the gaming style is old skool. This includes sprites and difficulty. While the game is not meant to be impossible to play, it might not be super easy, either.
Press the F4 key to play the game in windowed mode (Thanks Gaby!). It looks much better in a smaller window rather than full screen. It will adjust your display settings during play. Playing this on a wide screen monitor… it really gets distorted.
There is Active Time Battle (true to FFIV style!), but you will notice it is a bit sluggish. Don't think there's much we can do to speed up the engine — this is a limitation of RPG Maker 2003. Sorry.
We poke fun of EVERYTHING. Be ready.
Old art mingles with new! Sadly, it's pretty obvious what was done in 2003 vs. what has been updated in 2009.
SPOILERS! This game has been updated to reflect the Wayrift character/worlds as they are in 2009. Don't be surprised if you get an ear-full of stuff you didn't quite expect.
If you follow the instructions below, you shouldn't have any trouble installing it on a Windows Machine.
Game Controls!
Use the Arrow Keys to move the character around, move through menus, etc.
Press Enter to select things (such as activating Save Points, door triggers, usable items for puzzle rooms, or just talking to NPCs).
Press Esc to pull up the main menu.
Press F4 to change to windowed mode. Pressing F5 will also allow you to change the window size. To go back to full-screen mode, you just need to press F4 again. (Thanks Gaby for the tip!)
Installing the Wayrift RPG
Everything that you need to install and play is located in the download file. Here's the best step by step I can give you.
Download the newest Episode of the Wayrift RPG. This will be in a Zip folder format.
Unzip the contents into a folder on your computer. Yes, it's important to unzip them to get this to work. They're temperamental that way. Once unzipped, you should have a folder that looks like below:
Double click the setup icon to begin the game installation.
You will come to this weird looking prompt, as seen below. Don't be alarmed! The original game was in Japanese, so this just means your computer doesn't have a font that translates the symbols.
Take note of the installation path. This is where the program will be installed on your computer. Usually, on a Windows 10 PC, it defaults to C:\Program Files (x86)\Enterbrain\RPG2003\.
Click the left button to begin installation. Oh, and I have no idea what those checkboxes are for… but I checked them and they didn't give me any issues.
The runtime files will unpack and install the game for you. Once they are done, click the OK button.
Now that you have installed the game, you need to locate it on your computer! Usually, that will be in the C:\Program Files (x86)\Enterbrain\RPG2003\ directory. (Screenshots were taken on a Windows 7 machine, so may not match the path for a newer OS).
The application file will be called RPG_RT and will have an icon with a little yellow sword or a hero holding a sword. Double clicking this should begin the Wayrift game if all was correctly installed.
Since it's such a pain to always have to click through all those folders to find the game icon, here's a quick guide on creating a shortcut to your desktop! Note, that if future Episodes are released, you'll have to change your shortcut to point to the correct version.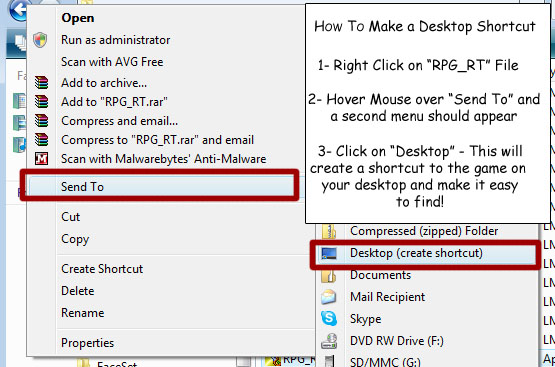 History of the Wayrift RPG
It was 2003 when Syn and I first started playing around with the Japanese RPG Makers. This was not my first attempt at learning the RPG Maker system, but it was the most thorough experiment — everything released in Episode 1 was actually completed back in 2003. We just pulled it out, updated some things, tweaked the story and characters a bit, and put a little more polish on it.

We spent a lot of time learning to code, creating character sprites and working to build the Blue Planet in familiar and new ways. And scripting… oh, dear… scripting. Considering each NPC in the world has some different (usually snarky) conversation built around them, there is quite a bit to read! Basically, we put everything into the game that we would like to see in a game that we would play (within the limitations of the RPG Maker, of course).

So is this the slickest, most epic RPG out there? Nah. Probably not. But we think it's fun… especially for Wayrift readers who would enjoy playing the characters from the Wayrift world.
| | |
| --- | --- |
| | Final Note: We put a lot of time into creating the sprites and world maps in this game. We'd really appreciate that you didn't steal them for your own projects (as if anyone still uses RPG Maker 2k3 anymore). Same for the Midi files — most of these have been modified especially for use in this game. Thanks! |
Leave A Comment!